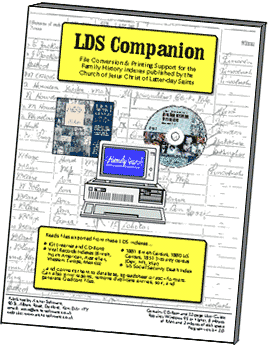 Supply Details
LDS Companion runs under any 32-bit or 64-bit version of Windows, i.e. Windows 7, Vista, 98 etc. The program and sample files together require about 2 Mbyte of disk space. It comes on a CD-Rom, and is supplied boxed (image, right), with an illustrated 32-page User Guide and comprehensive Windows help system.
To make ordering easier, please print out and use this order form, which includes US/Aus/Canadian dollar pricing.
United Kingdom
The program may be purchased directly from Archer Software for £18.00 (18 pounds sterling) which includes U.K. postage and packing.
---