This page provides some background information about the various databases compiled by the LDS Church, i.e. the Church of Jesus Christ of Latter-day Saints. Note that this site has no direct connection with the LDS Church, and opinions expressed here are not necessarily those of the church.
FamilySearch®
CD-Rom Version
In the early 1990's the Church began to distribute genealogical data on CD-Rom disk, packaged as an MS-DOS based system called FamilySearch. This is available at many of the Family History Centres run by the Church, and comprises the following databases:
International Genealogical Index (IGI)
Scottish Church Records
US Social Security Death Index (SSDI)
Ancestral File
US Military Index
Internet Version
Since 1999 some of the above (IGI, Ancestral File) have been available on-line, as part of the internet version of FamilySearch, as well as some of the Vital Records Indexes. These were followed in 2002 by most of the census transcriptions previously available only on CD-Rom (and described in more detail below).
LDS Companion can convert all of the above apart from Ancestral File and the US Military Index.
The International Genealogical Index
The main component of FamilySearch is the International Genealogical Index™ (IGI), an index of millions of names of deceased persons from many countries. The CD-ROM edition contains more than 200 million records (slightly more than the microfiche edition of 1992), supplemented by an Addendum (the latest is 1997) containing another 84 million names, and a very similar database called the Scottish Church Records.
Social Security Death Index
Another large database supplied as part of FamilySearch is the United States Social Security Death Index (SSDI). This lists deaths that have taken place in the United States since 1937, where relatives have claimed Social Security death benefits. The data was provided by the United States government through the Freedom of Information Act, and mainly covers deaths since 1962, the date when the records began to be computerised. The Dec 1997 version of this database contained some 57 million records and has been further updated since. Although birth places are not given (only dates), the database contains many individuals who were born in the U.K. and who subsequently emigrated to the U.S.
Family History Resource Files
From 1998 the LDS Church began releasing new data as 'Resource Files' in a different format (Folio Views), accessed with a new Windows-based front-end program called the Resource File Viewer. The new Resource Files consist entirely of raw data extracted from original records such as parish registers and census returns, and as such have an advantage over the IGI (which contains many doubtful entries submitted by researchers).
Unlike the FamilySearch system which is only available in LDS Family History Centres or on the internet, 'Resource Files' can be purchased by individuals for use at home (ring 0870-010-2051, 9am-5pm Monday-Friday).
LDS Companion can read download files from most of these databases (described below), and convert them to standard database/spreadsheet formats.
1851 3-County Census
The 1851 census returns for Devon, Norfolk and Warwickshire were released on a single CD-ROM in Spring 1998. This had been a pilot project for the 1881 project, and had already been released on microfiche.

Although described as Resource Files, the data cannot be viewed through the version of the Resource File Viewer that accompanies the 1881 Census and British Vital Records Indexes. Instead, there is a dedicated access/search program which is in fact more flexible than the Resource File Viewer. Two download formats are available from the 1851 Census, according to whether you export full household information, or just the name index. Both of these are a form of tab-delimited text format, and can be converted by LDS Companion. Unlike the VRI and 1881 Census databases, you are not restricted to 100 records at once.
British Vital Records Index
The 1st Edition of the British Vital Records Index was released on five CD-ROM disks in Autumn 1998, containsing nearly five million names from parish registers, civil registration and other record collections from England, Wales, Scotland and Ireland.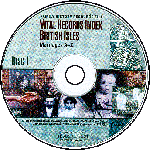 The records it contains span three and a half centuries, 1538-1888, concentrating on birth and christening records (4 disks) with a smaller number of marriages (1 disk). It complements the IGI, with only a small number of entries overlapping. In contrast to the IGI, it contains only entries extracted from original sources, i.e. it excludes any entries submitted by relatives or researchers.
In spring 2002 the 2nd Edition was released on 16 CD-Roms, including all the earlier records and bringing the record count up to 12.3 million records (1538-1906). From both of these indexes you can export files in Gedcom and Rich Text formats, but these are limited to 100 records per file.
North American Vital Records Index
This was released in 1998 and contains information taken from a partial collection of birth, christening and marriage records of the United States and Canada. These records cover the period 1631-1888, containing about 4.6 million names. You can export files in Gedcom and Rich Text format.
Australian Vital Records Index
This contains an index of some 4.8 million births, christenings, marriages and deaths from New South Wales (1788-1888), Tasmania (1803-1899), Victoria (1837-1888), and Western Australia (1841-1905). The Australian VRI creates Text files only.
Western Europe Vital Records Index
This contains about 12.5 million records of birth, christening and marriage records for Austria, Switzerland, Belgium, Netherlands, France, Germany, Italy and Spain, dating from the 1500s to 1905. Some of the records may also be found in the IGI.
Middle America – Mexico Vital Records Index
This contains about 1.9 million records of birth/christening and 0.3 million marriage records for Mexico, between 1659 and 1905.
Scandinavian Vital Records Index
This contains about 3.6 million records of birth/christening and 1 million marriage records for Denmark, Finland, Norway and Sweden, 1610-1905.
1881 British Census
The 1881 British Census transcription on CD-ROM (published 1999) consists of 16 CD-Rom disks, with the national name index (another 8 disks). Altogether the dataset comprises more than 30 million names. It was originally supplied with v2.0 of the Resource File Viewer, which limited its export files to Rich Text Format (RTF). However, it's now supplied with v3.0 (or later) of the Viewer, which adds more sophisticated search facilities, as well as Gedcom output.
1880 United States Census
This was released in 2001 and comprises some 50 million entries, on 35 CD's. Export options as for the 1881 British Census.
1881 Canadian Census
This was released in 2002 and comprises some 4.3 million entries. Export options as for 1881 British Census.
---