Supply Details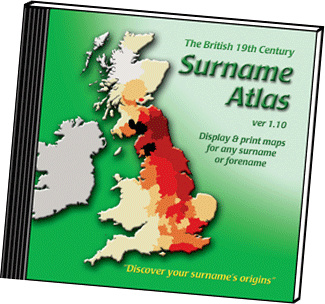 Surname Atlas is supplied on CD-Rom in a standard jewel case (right). Brief printed printed instructions are included, as well as a more detailed Windows help system.
System requirements are fairly modest - a PC running Windows 10, 8, 7, Vista, XP (32-bit or 64-bit versions), a CD-Rom drive, and a screen resolution of 1024x768 or higher.
United Kingdom
Surname Atlas is available direct from Archer Software for £15 - please use the Order form.
You can also upgrade to the current version, please see the Upgrades page for more details.
There are a couple of distributors in the UK with stocks of the program, i.e. S&N Genealogy Supplies, and the Guild of One-Name Studies who offer a discount to Guild members.