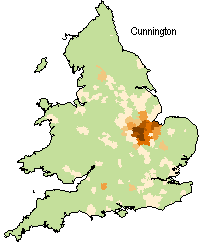 Surname Atlas
The British 19th Century Surname Atlas is a fully interactive CD-Rom product that displays floodfill-style distribution maps for all of the surnames and forenames found in the 1881 census of England, Scotland and Wales. Using the program is simplicity itself: just insert the CD in your drive and wait for it to load. Then enter a surname in the data entry box and hit enter. A map for that surname appears almost instantly, similar to the example shown here for the surname Cunnington. For more examples, see the Example Maps page.
---
These are some of its features:
Display any of the 400,000+ surnames & variants that appear in the 1881 census. In many cases the maps will indicate the probable geographical origin of a surname.
Similarly plot any of the 160,000+ forenames, and view their popularity through time.
Aggregate data by county or district.
Plot data as actual numbers, or a density ('per 100,000' of the population).
Include any collection of name variants on each map.
Investigate surname elements using wildcards (e.g. *thorpe)
Display lists of surnames characteristic of particular counties
Show one or four surname maps at any one time.
Zoom and pan the maps to frame exactly the area you want to see.
Configure colours schemes, boundaries & numeric ranges.
Print maps, or export to the Windows clipboard.
---
The original version of Surname Atlas was launched in April 2003 and the current version in March 2015. See the Upgrades page to see what's changed.
It's attractively priced at only £15 and is available direct from Archer Software - see Supply Details.
System Requirements
These are fairly modest - a PC running Windows 10, 8, 7, Vista, XP (32-bit or 64-bit versions), a CD-Rom drive, and a screen resolution of 1024x768 or higher.
---