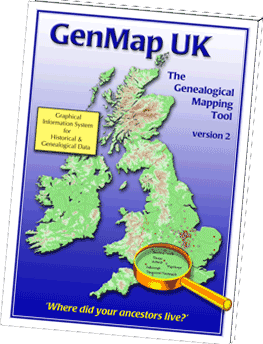 Supply Details
GenMap UK comes on CD-Rom and is supplied boxed (right), with an illustrated 48-page User Guide and comprehensive Windows help system. In addition, the package comes with completed examples, sample files for importing, and self-running tutorials.
System requirements - a PC running Windows 11, 10, 8, 7, Vista, XP (32-bit or 64-bit versions), a CD-Rom drive. The program and sample files together require about 18 Mbytes of disk space.
Ordering
GenMap UK v2.4 may be purchased directly from Archer Software for £29.95 (includes UK postage and packing). You can print out and use the Order form, or email for PayPal details. Pricing and postal rates in Euro's and US / Australian / Canadian dollars are also on the order form.
Upgrading
To upgrade from GenMap UK v1, or from earlier releases of v2, please see the Upgrades page.
---