What's New in Version 2?
Launched in autumn 2002, GenMap UK v2 is now a 32-bit program, supporting long filenames etc., and running under Windows 95 and later. Compared to v1.0 (released 1997), these are some of the enhancements it offers: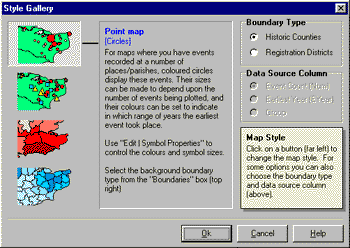 A graphical Style Gallery (above) to allow choice of basic mapping style
A second type of point (dot-distribution) map option, allowing choice of different symbol shapes, colours and sizes, as well as user-defined bitmap symbols. Examples of these styles are given on the Mapping Styles page.
Floodfill maps based on 1881 Registration District boundaries (England & Wales only)
Option to add relief (hills/mountains)
Resizeable map/table windows
Long filename support
New, tabbed-style dialogues with on-screen tips
Several graphical export options, including copy to clipboard, creation of BMP/GIF files and/or creation of HTML pages for websites
Customised symbol annotation
Facility to make text annotations directly on to the map
Ability to move added text with the mouse
Freehand lines and arrows on maps
Wizard-style tool for importing external files. The place recognition engine has been largely rewritten and significantly improved. Support has been added for importing MS Access 97, Paradox and CSV files. There is good support for external files created by LDS Companion; the Wizard allows preview of external files prior to import, and creates a log file for each import run.
Auto-consolidation of identical places on import, also when editing the table
Support for various fill styles on floodfill maps and different line widths/styles
Tool to measure distances between places
Footnote and scale can be added to the printed page
Dialogue to display lists of Counties and Registration Districts
More flexible tabular reports
New gazetteer tools such as add/delete entry, a "Smart Search" tool, 'Find Nearest' tool
Recent file history available from File menu
File association support (i.e. launch program and load file by clicking on .GMP filenames in Windows Explorer)
Improved support for larger paper sizes
Completely new Windows-95 style online help
Several self-running tutorials, running straight from the program CD-Rom.
Conversion utility for converting GenMap v1.0 files to v2.0
Improved and fully illustrated 48-page user guide
Upgrades
If you already have ver 1.00+ of GenMap UK, you can obtain the latest version direct from Archer Software at a 50% discount, i.e. £15.00, please see Supply Details.
---