Using the Import Wizard
Using GenMap UK, you can either create maps from scratch, or import data from several types of external source:
A Database file in a number of supported formats - Microsoft Access 2000/2003 format (.MDB), dBase III/IV/5 (.DBF file extension), Paradox (.DB).
A Gedcom file, i.e. a file created by a family history program such as Family Tree Maker, Pedigree, Family Historian, Legacy.
A Spreadsheet file, e.g. Excel (via the Windows clipboard).
---
The Import Wizard makes importing from an external file a breeze. In the case of a database it guides you through the whole process of selecting the file (with an optional Preview), then identifying the various fields that GenMap will use. Below is shown Page 3 of the Wizard, illustrating the selection of fields from an external database. These fields are what the program will use for identifying the County and Place for each location.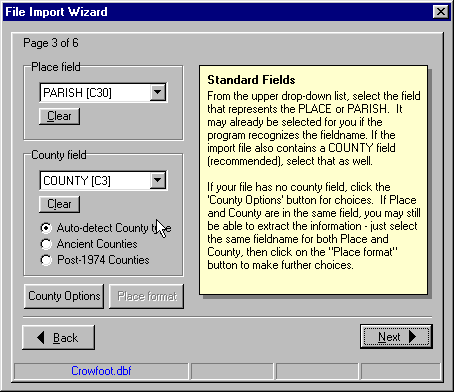 The program is ideally suited for importing database files created by LDS Companion. And the family history database program Custodian can also generate files that are suitable for importing into GenMap.
Frequently Asked Questions:
| | |
| --- | --- |
| Q. | If I have a database file, how much work is involved in getting the data to display on a map? |
| A. | Normally, very little. The import routine allows you to select fields in the external file that hold the geographical information - such as a parish/place name, and an optional county name. So, a database file with a record containing "Winchester" and "Hampshire" (or 'HAM') respectively in two separate fields would be no problem. |
| Q. | But how does the program know where to plot this imported data? |
| A. | It has a large database of placenames, together with their map co-ordinates. So it reads through your list of places, and tries to match them against places it knows about. |
| Q. | Fine, but my database is not in dBase (.DBF) format |
| A. | Fortunately you can create a DBF file very easily from many popular Windows applications, such as MS Access, Excel, Paradox, MS Works, etc. |
| Q. | O.K, but what about a GEDCOM file? |
| A. | The import routine has to extract the place information from a single record in the Gedcom file, i.e. the 'PLAC' tag. This is always going to be more error-prone than using a database. So its success at recognising places depends to a great extent on how you formatted this information in the original genealogy package. Having said that, the recognition engine is fairly tolerant of syntax variations, e.g. it knows about common county abbreviations and Chapman county codes, and can even deal with some variation in the spelling of place names. To take an example, "Winchester, Hampshire", "Winchester, Hants", or "Winchester, HAM" (comma-separated) should all work O.K. It can also deal with extracting a place and county from a longer address string, even if the place/county elements do not occur at the end of the string. |
| Q. | What does the program do with the places it can't identify? |
| A. | It creates records for them in the GenMap data table, reproducing the syntax of the original. You can then use facilities within the program to turn them into 'real' placenames and get them plotted on the map. |
---